Admission Open

academic year :- 2023-24
STandard :-Jr Kg to 12th Commerce
English & Gujarati Medium

Welcome to DSC Public School
DSC Public School is a co-educational school that follows the GSEB syllabus. The school offer unique educational foundation and experience by maintaining a perfect balance between academics, sports, co-curricular and life-skill activities. Focus is given to individual potential and each student is believed to be unique. Inculcating values through various practices help to mould the children into responsible citizens of tomorrow. DSC Public School believes in 'no child left behind' policy, hence each child is nurtured and guided in a way that he/ she blossoms into their true potential. The activities in school orbit around upholding its core values of "Nurturing individuals towards excellence in a happy, value based & progressive learning community." 
॥ आत्मना विन्दते वीर्यं विद्यया विन्दते अमृतम् ॥
FROM THE SOUL COMES VALOUR. FROM KNOWLEDGE COMES IMMORTALITY.
At DSC Public School, we believe in harnessing the inborn potential of every child and empowering him with knowledge. And if there is joy in learning and happiness in gaining knowledge, it will remain with the soul forever.
 
Vision
To Mould young minds into community leader.
 
MISSION
To create a joyful school environment that will generate happy, righteous & quality individuals equipped to make right choices in life & grow up to be responsible citizens of the world.
"When our signature changes to autograph, this marks the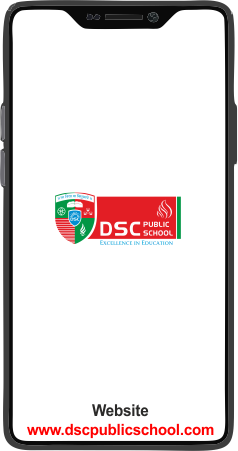 DOWNLOAD OUR SCHOOL MOBILE APP
Download the mobile app of DSC Public School - Una today to stay connected, parents can now access their child's all updates on mobile.

It's a smart tool, a complete and comprehensive package which brings all e-care facilities at one place at fingertips for all users. (Teachers, Parents & Students)